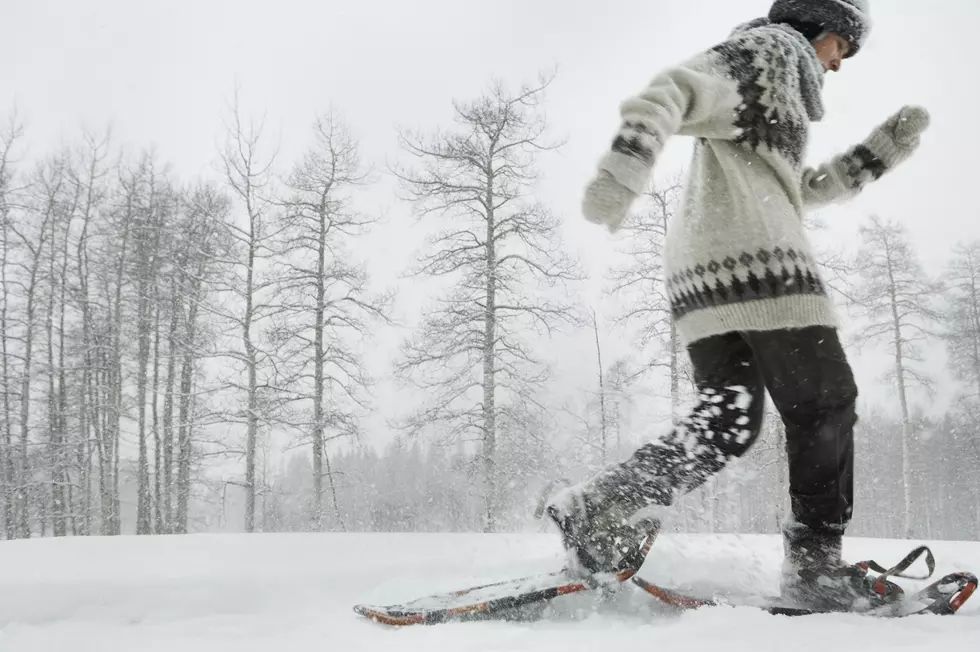 5 Things to Do in Central New York Before Spring Hits
Thomas Northcut/ThinkStock
Most of us can't wait for winter to be over with and for the weather to start getting warmer. Unfortunately, we can't make spring come sooner, so we found some fun activities that you can enjoy in the cold weather in Central New York.
Instead of wishing the time away, why not make the best of this time of the year? Winter can be rough in Central New York, there's no doubt about that. But that doesn't mean you can't find something fun and exciting to do, to at least try to enjoy it. Here's five things we think you should do before spring hits:
Snowshoeing or Cross Country Skiing: You have plenty of options when it comes to snowshoeing in Central New York, you can even do it at the Utica Zoo if you're not up for too big of a challenge. To snowshoe at the Utica Zoo, there has to be at least 6-inches of snow on the ground (which we're sure we'll get before winter is over), and you can rent snowshoes or bring your own. You can also head up to Boonville, which has many different trails (and at a variety of levels) for snowshoeing and cross country skiing. You can keep updated on trail conditions by visiting the Black River Environmental Improvement Association's website at: Breiax-CountrySki.org.
Snow Tubing at Woods Valley: Now this is fun for the whole family. Snow tubing doesn't take any skill level and will not wear you out (too bad). You can rent a tube, and take a ride up their conveyor belt (that's right, you don't even have to walk up the hill), and get ready to ride down one of the lanes. Woods Valley also offers skiing and snowboarding if you choose to enjoy those winter activities. And when you're done with all your outdoor fun, you can warm up inside their "Tap Room 46."
Take In Our Craft Beer Industry: Sure, you can do this in the spring, summer, and fall, but we're talking about tasting the "winter flavors" at our local breweries. And you have plenty of breweries to choose from. You can head to Saranac Brewery and try one of their seasonal beers, or maybe Woodland Farm Brewery in Marcy, Copper City Brewing Company in Rome, or even Crazy Williez Brewery in Ilion. You don't even have to head to the breweries if you don't want to (although, that's always an adventure), you can pick up New York seasonal beer from a variety beverage discount centers throughout Central New York.
A Free Adventure in the Snow: Why not just enjoy the snow for a day, with the family, and without it costing you anything. You could always help the kids build snow forts or a snowman, just in your backyard or at a local park. If you like to get a little more crazy, maybe it's time for a snowball fight? Sure, it will be cold, you'll get wet, and probably make a mess dragging all the snow gear back in the house, but for one day of fun with the kids? Why not?! They'll probably enjoy you getting out in the snow with them, too.
Take a Day Trip to the Adirondacks: Okay, so technically this isn't Central New York, but it's not a bad drive, and you can easily head up for the day and come back at night. There's so much to see and do in the Adirondacks (even in the wintertime). You can head into Old Forge and watch all the snowmobilers (because they're everywhere). Stop at Fulton Chain Craft Brewery and enjoy a nice adult beverage in a warm, cozy environment. There's also plenty of places for ice skating, snowshoeing, skiing, or just relaxing while watching everyone else taking part in those winter activities. Plus, there are still quite a few Winter Carnivals going on throughout the Adirondacks. You can get more details on those winter carnivals and other activities by visiting: Adirondack.net/Winter
We hope you enjoy these ideas, and maybe they help inspire some of your own. Winter can seem to drag, but we might as well try to make the most of it... There's no escaping winter in Central New York. And don't worry, spring will be here before we know it.
---
BONUS VIDEO: