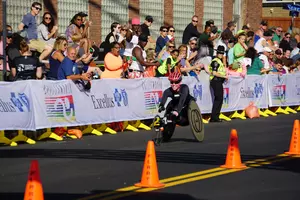 Amanda McCrory is Women's 2018 Boilermaker Wheelchair Winner
Credit: TSM
The 41st Utica Boilermaker produced a record wheelchair field, with 32-year-old Amanda McCrory hitting the tape first as the women's wheelchair winner.
The 2018 Utica Boilermaker featured the largest field of wheelchair competitors (43) in the history of the prestigious race. And there was also a record nine women's participants this year in wheelchairs.
McCrory, the Savoy, Illinois resident and University of Illinois graduate, won the race for the sixth straight time with a time of 39:59.