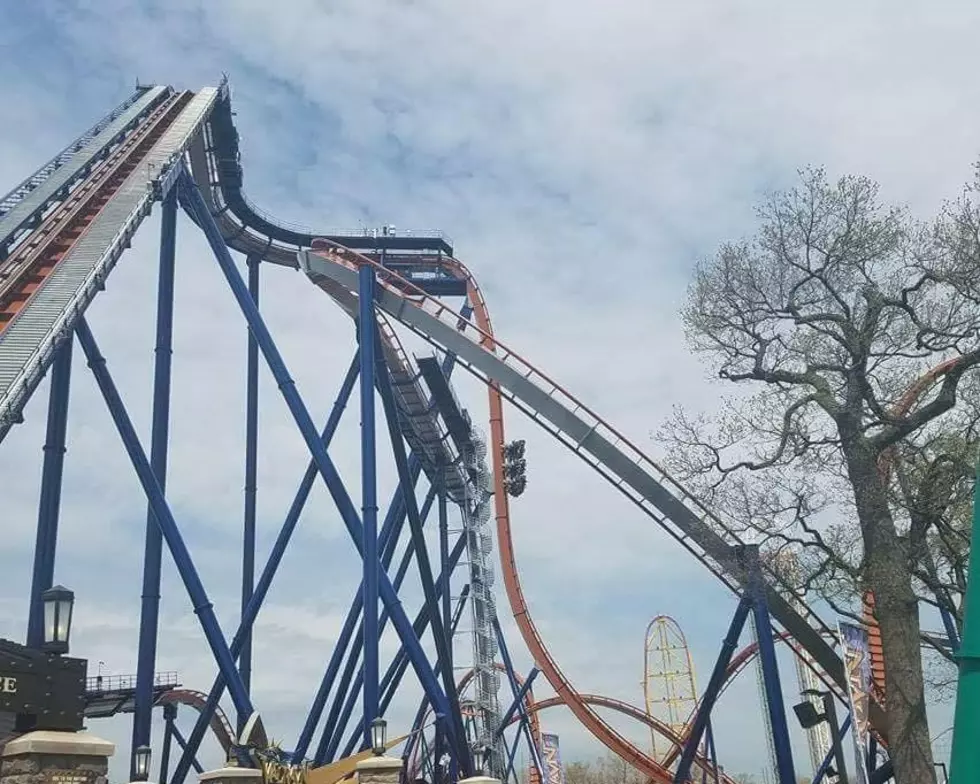 The Top 7 Amusement Parks in New York and the Northeast
Luke Tubia/TSM
After Cedar Point made national news with their record-breaking coaster 'Valravn,' we wanted to find the best amusement parks and coasters in our area.
Cedar Point just opened their latest coaster "Valravn" - which broke records for being the tallest, fastest, and longest dive coaster. You can check out the video at the top of this page to see what all the fuss is over this new coaster.
All this news about coasters has us wondering where the best amusement parks are in the northeastern states. After researching the biggest parks in the area, we narrowed it down - the Top 7 parks in the northeast. The rankings were based on amount of coasters, biggest thrills, and other attractions available.
#7 Lake Compounce - Connecticut
This is probably the best 'family-friendly' park on the list. It has a few coasters, including "Boulder Dash" which was named the number one wooden coaster in the world. The park also includes thrill rides, rides for the kids, and even water slides and pools. Learn more about Lake Compounce here.
#6 The Great Escape - New York
This park has over 135 rides and attractions including coasters, water rides, and rides for the whole family. The Great Escape also opened a new ride for the this summer called "Greezed Lightnin.'" One of their historic coasters "Comet" has been getting great reviews on their website. Take a ride on it below:
#5 Canobie Lake Park - New Hampshire
From the Utica area, Canobie Lake Park is only about four hours away. The park includes nine thrill rides (three of them are coasters), 21 family rides, 18 rides for the kids, and even four water rides. Their biggest thrill? That would have to be "Untamed" which takes you 72-feet in the air and drops you not straight down (that would be 90-degrees), but at a 97-degree angle! Crazy, right?! You can get more info on their park here.
#4 Darien Lake - New York
If you want to stay in the state and get your heart racing with some amazing coasters, Darien Lake is the place for you. It's just a short drive - less than three hours from Utica, to the western side of New York. Darien Lake includes 11 high thrill rides - six of which are coasters. There are also other rides for the kids and for the family. And don't forget about their water rides... Darien Lake is home to three water rides and eight other water slides and attractions. Why not take a ride on the "Ride of Steel" - the tallest and fastest roller coaster in the whole state:
#3 Six Flags New England - Massachusetts
Six Flags in Massachusetts holds more than 60 different intense rides, family rides, water slides, coasters, and other attractions. If you're looking for some big thrills, but also some 'not-so-extreme' rides, Six Flags New England is perfect. And what's new for the 2016 season? Check out the video...
#2 Six Flags America - Maryland
Probably the furthest one away on this list (for Uticans), with a drive time of about six and a half hours, but the drive is worth it. Six Flags America is home to nine different coasters - all bigger and badder than the next. The park also has rides for those seeking thrills, but on a lesser scale, and some interesting attractions like "Dare Devil Dive" - which is like a ripcord ride that drops you eleven stories! One thing you have to check out if you head to Six Flags America? "Apocalypse" - A coaster that straps you in, standing up...
#1 Six Flags Great Adventure - New Jersey
You've probably noticed a pattern with the last few entries - They're all Six Flags. Apparently, they're doing something right. Although, if you're planning on taking multiple theme park trips this summer, maybe only hit one or two Six Flags locations (a lot of them have either the same ride, or similar rides). This one is number one for a reason though. It's the best amusement park in all of the northeast. Six Flags Great Adventure holds 17 top thrill rides - with more than 10 coasters. Not only that, but a few years ago the combined their 'ride park' with their "Wild Safari Animal Park" making it the second largest theme park in the world. So what makes this Six Flags better than the other ones on the list? (besides how big it is). Probably all their high thrill coasters, and there's a lot of them - like "Bizarro," "El Toro," "Green Lantern," and of course "Kingda Ka."
Did we miss any on our list? Is there an amusement park in New York or the northeastern states that's your favorite? Which one on the list is your favorite? Let us know in the poll below (you can also fill in your answer if you don't like ours).
---