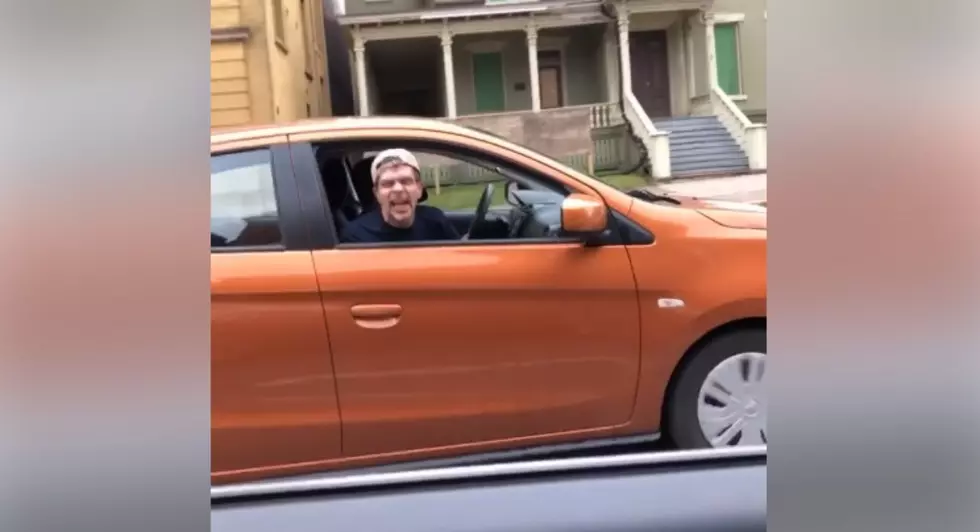 Beyond the Video: Perspectives on Racism in Utica and the Mohawk Valley
Credit: Jakeila Phillips, Facebook
In a set of exclusive interviews, we take an in-depth look at all sides of the Genesee Street incident, getting perspectives from Jakeila Phillips, who was the target of the tirade, and from Barry Wardell, caught hurling the racist epithets in a now-viral video filmed in Utica.
We also speak to Venice Ervin, the President of the Utica/Oneida County chapter of the NAACP, who addresses the larger issues of racism in our communities.
Jakeila Phillips say she wants "people to understand that racism still exists."
Jakeila Phillips, who is a wife and mom, and works as a radiographer and sonographer, says she was surprised at how quickly and how far the video spread, noting media outlets as far as England shared her story.
In posting the video to Facebook, Phillips says "when I tell people I experience racist or prejudice encounters all the time, they never believe me cause we live in Utica. I finally got to catch one on camera."
In an exclusive interview, 29-year-old Phillips says her friends thought this type of racism "only happens in the south." She says now that her friends have seen the video, they can't believe it's that bad.
Enter your number to get our free mobile app
Phillips tells us the incident on the video isn't the only overt racism she's faced. She details an experience at a now-defunct Varick Street bar, where she says the bartender - who was also the owner - kept serving the Caucasian people around her, and passing her by. When she asked the bartender if he was going to take her order, he replied, "No, you Black people don't know how to act when you start drinking."
Phillips says she started filming the video when she heard Wardell yelling racial slurs at the car ahead of her, and then just tried to remain calm when his rage was turned on her. "I'm also pregnant, so I was fearful."
When asked what she hopes people take away from her experience and the video, Phillips says "I want them to understand that racism still exists, and hopefully, if we are all nicer to each other, then maybe we can help each other more." She says she also hopes that the law changes so there are charges when someone is belligerent like Wardell was in the video.
Phillips says when confronted with people who express racist views, she always tries to stay calm, and share her perspective - and how the experience of people of color is not the same as others'. Sometimes, she says, that helps.
Venice Ervin, President of the Utica/Oneida County Chapter of the NAACP speaks
Venice Ervin, President of the Utica/Oneida County chapter of the NAACP says, after talking to people who are self-proclaimed lifetime racists, Wardell "is one of the worst (he's) ever heard, to speak out so blatantly like that."
"As Black people, we know that people like that exist," Ervin continues. "To come out like that, so unprovoked, he needs to get an education about what he's speaking about."
We asked Ervin what he thought about Phillips' experience of not being believed by her friends when she related her experiences of racism in Utica and the Mohawk Valley. Ervin says nationwide, "we've been going through this for a lot of years, where we have said these types of things are happening, and people didn't believe us. It's kinda strange that it took George Floyd's death for people to really rally as much as they have around the Black community and about Black Lives Matter."
Ervin says he's been encouraged by the number of young people that have taken part in the worldwide protests over the deaths of George Floyd, Ahmaud Arbery, Breonna Taylor, and others. "They're taking the time to learn the history of what Black people have been through."
When asked what he thinks we can do to create an actively anti-racist community, Ervin stressed the importance of frank and continuing conversations around race. "Racism and hate and prejudice in America, and maybe in the Mohawk Valley, is just one of the things we just don't want to sit around at the table and talk about out loud, you know?"
Ervin says in order to create change, we need to be willing to have difficult conversations. He says the NAACP is always willing to facilitate those discussions, and to support groups and people who are willing to come together to have them.
Barry Wardell Responds to Video of Tirade : "This Lady Cost Me My Job"
In a video captured this weekend, Wardell says "I hate n______s!" "Black lives don't matter," and, despite acknowledging he's being filmed, says "I hang n______s on weekends."
Venice Ervin, NAACP President, says he was heartened by how quickly Hamilton College and Bon Appétit Management Company reacted to terminate Wardell's employment.
Wardell called Lite 98.7 a few hours after the story broke to say there was more to it.  "What you aren't showing there are the two people throwing wine cooler bottles, and beer bottles in and at my car." Wardell is referring to a third vehicle, also captured on video by Phillips, moments before Phillips herself is targeted.
In another call to the Lite 98.7 radio station, Wardell says two Black women were driving the burgundy vehicle, they gestured to him to roll down his window, and once he did, yelled "White Lives Don't Matter" and then proceeded to throw bottles into his car. He says he then "hollered" at them. Wardell is on video calling them "N______r loving whores."
Jakeila Phillips, who filmed the encounter, says this is the exact opposite of what happened, and that Wardell was the instigator.
Asked to respond to a report that he told a New Hartford business owner he was headed to a "Black Lives Don't Matter" rally, Wardell admitted that he had. When questioned if "Black Lives Don't Matter" reflects his point of view, Wardell responded, "Yes. I don't believe they matter. I don't believe they matter one bit." Wardell admits there was no such rally, but says he hopes to put one together in the future.
Phillips says she's "distraught" by Wardell's words. "He wants to create these problems."
Mr. Wardell may not have learned anything from his experience, but as Jakeila Phillips says, this video serves as proof that racism is alive and well in Central New York. It's up to all of us to be willing to have tough conversations, and to be open to learning about others' experiences, in order to shape a brighter - and more just - tomorrow.
Here are the segments as they were presented on-air:
Here are all three interviews, Wardell, Jakeila Phillips, and Venice Ervin, in their unedited versions:
---
---
KEEP READING: See changes enacted since George Floyd's death