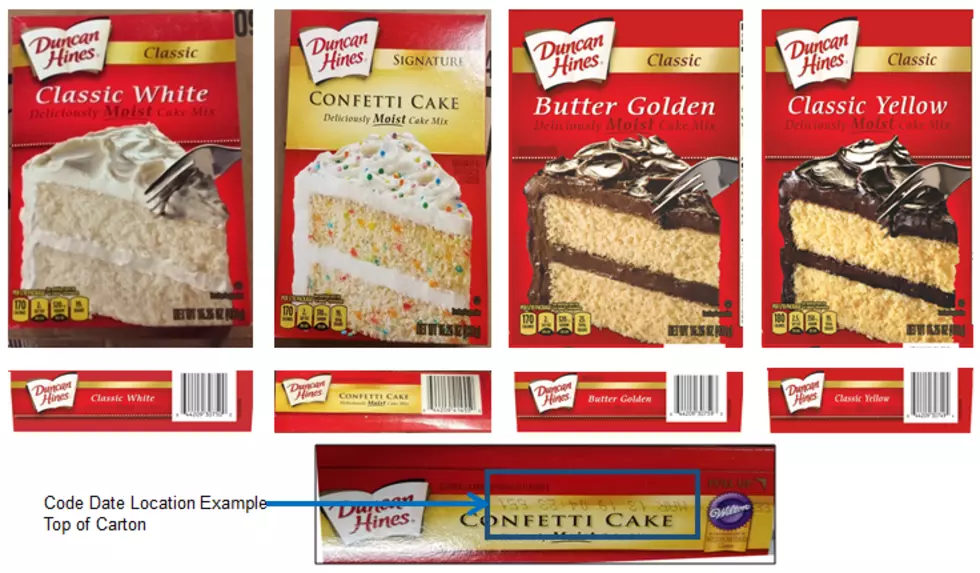 Duncan Hines Recalls Cake Mix Over Salmonella Concerns
Credit: Conagra via FDA.gov
Conagra Brands, which owns Duncan Hines, has decided to voluntarily recall Classic White - which is the flavor that tested positive for Salmonella - along with three other varieties: Classic Butter Golden, Signature Confetti and Classic Yellow. 
Salmonella is an organism which can cause serious and sometimes fatal infections in young children, frail or elderly people, and others with weakened immune systems. Healthy people exposed to salmonella often experience fever, diarrhea, nausea, vomiting and abdominal pain. According to the FDA, in rare circumstances, infection with Salmonella can result in the organism getting into the bloodstream and producing more severe illnesses such as arterial infections (i.e., infected aneurysms), endocarditis and arthritis.
Five cases of illness are being investigated as part of the investigation, and in each case, consumers had eaten cake batter - either raw or cooked. The FDA cautions consumers NOT to consume raw cake batter. 
The specific products recalled are listed here:
Consumers who have purchased these items are advised not to eat and to return them to the store where originally purchased. Conagra Brands is working with customers to ensure the packages are removed from store shelves and are no longer distributed. Consumers with questions should call the Conagra Consumer Care team at 1-888-299-7646, open 9 am through 5 pm EST, Monday through Friday or visit www.duncanhines.com.