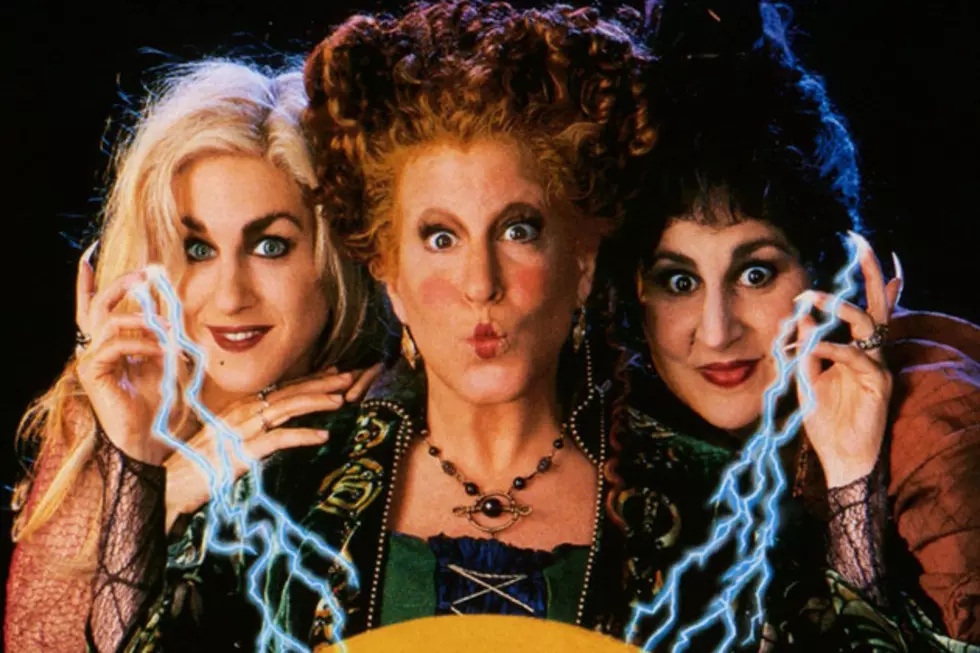 Then + Now: The Cast of 'Hocus Pocus'
Disney
As the air grows chilly and leaves start to fall, we want nothing more than to hunker down with a blanket, a bowl of trick-or-treat candy and our classic Halloween favorite: Hocus Pocus.
It's been 21 years since Max Dennison lit the black flame candle and accidentally resurrected the bewitching Sanderson Sisters after 300 years. Where is the cast of 'Hocus Pocus' now? Let's find out.
Omri Katz (Max Dennison)
Then: Omri Katz stole our hearts (and Allison's) as the heroic Max Dennison, who accidentally brings back the Sanderson Sisters but ultimately saves the day (and his beloved sister, Dani) thanks to a little love, ingenuity and sunlight. In addition to his role in the 1993 film, Katz starred on Dallas for almost 10 years and was the lead in NBC's Eerie, Indiana.
Thora Birch (Dani Dennison)
Then: The adorable, curly-haired Thora Birch played Max's little sister Dani in Hocus Pocus, and she wanted nothing more than to hang with her older brother. Just two years later, Birch starred in a more mature role as Teeny Tercell in Now and Then, and later as Jane Burnham in the Academy Award-winning American Beauty.
Now: Birch went on to nab the leads in Ghost World and the Lifetime movie Homeless to Harvard, for which she was nominated for an Emmy Award. While she continued to act throughout the decades, Birch appeared in more lesser-known films. In 2010, she once again landed a role in a Lifetime movie -- this time, in The Pregnancy Pact. She also hung out with the rest of the 'Hocus Pocus' cast at the film's 20th anniversary party in 2013, where she donned a witch's hat and looked exactly like Dani. Birch has roles in 2017 films Above Suspicion and The Etruscan Smile. 
Vinessa Shaw (Allison)
Then: Vinessa Shaw played Allison, Max's love interest in Hocus Pocus -- you know, the one with the "yabbos." (Cringe!) Six years later, Shaw went on to land a part in the Tom Cruise film Eyes Wide Shut.
Now: Shaw has acted fairly steadily since the '90s, scoring roles on the big screen in 40 Days and 40 Nights, The Hills Have Eyes, and 3:10 to Yuma. She has also earned her fair share of television credits, and had a recurring role on HBO's Ray Donovan, on which she played Kate McPherson. In 2017 she reunites with Hills co-star Aaron Stanford for the movie Clinical.
Bette Midler (Winifred Sanderson)
Then: Bette Midler had already established herself as an American icon when she took on the role of the cunning Winifred Sanderson in Hocus Pocus, having earned an EGOT for multiple Grammy Awards, a Tony Award, an Emmy Award and two Oscar wins all before 1993. Whew.
Now: Midler has continued to fulfill her superstar status, garnering even more Grammy Awards for her music, starring in her own Vegas production, receiving a Lifetime Achievement Award at the Songwriter's Hall of Fame and so much more. She also reprised her role as Winifred in 2016, dressing as her own Hocus Pocus character for Halloween. 
Sarah Jessica Parker (Sarah Sanderson)
Then: Long before Sarah Jessica Parker played the overly flirtatious Sarah Sanderson (and totally creeped us out by singing 'Come Little Children') in Hocus Pocus, she had already earned some serious acting cred: She starred as the titular role in Annie on Broadway at age 14, soon gaining spots in '80s classics like Footloose and Girls Just Want to Have Fun.
Now: Of course, Parker is most well-known for her turn as the Manolo Blahnik-loving Carrie Bradshaw on Sex and the City, a role she played for the series' entire run and in the show's two films. Parker's portrayal of Carrie Bradshaw earned her one Emmy and four Golden Globe wins and catapulted her into a fashion icon. SJP has been married to Matthew Broderick since 1997, whom she lives with in New York with their three children, and in 2016 starred in the HBO show Divorce.
Fun fact: In her episode of 'Who Do You Think You Are?' Sarah Jessica Parker actually found out that one of her ancestors was accused of being a witch during the Salem Witch Trials in the late 17th century.
Kathy Najimy (Mary Sanderson)
Then: Prior to playing the vacuum-riding witch Mary Sanderson in 'Hocus Pocus,' Kathy Najimy was already well-known for her role as a different Mary: Sister Mary Patrick in Sister Act and Sister Act 2.
Now: With a wealth of credits to her name, some of Najimy's most prominent roles (in addition to her parts in Sister Act and Hocus Pocus, of course) include Olive Massery on Veronica's Closet, voicing Peggy Hill on King of the Hill for 13 years as well as Mary in WALL-E, being one-half of the comedy duo Kathy & Mo (which garnered her an HBO special) and playing  Wendy Keegan on HBO's VEEP.
Najimy, an outspoken feminist, has also been candid about her battles with an eating disorder, bravely speaking about her experience. She has been married since 1995, and has one daughter, Samia. Najimy played the Evil Queen in Disney's Descendants, and you can follow her on Twitter here.
Sean Murray (Thackery Binx)
Then: Sean Murray portrayed the 1693 human version of Thackery Binx in 'Hocus Pocus,' racing through the woods to the Sanderson Sisters' home in a (sadly unsuccessful) attempt to save his sister Emily from their evil clutches.
Now: Murray went on to amass a number of credits to his name in the mid-to-late '90s, scoring a recurring role on JAG and getting his big break as Timothy McGee on NCIS, a role he has been playing since 2003. Murray has been married since 2005 and has two children with his wife, Carrie. And here's a fun fact that will make your jaw drop: He is also step-siblings with Pretty Little Liars actress Troian Bellisario (NCIS was co-created by Troian's father, Donald Bellisario). Mind. Blown.
[Editor's Note: While Sean Murray played the human Thackery Binx, Jason Marsden voiced Binx in cat form. You also know Marsden as the voice of Max from The Goofy Movie, D.J.'s wealthy, one-time boyfriend Nelson from Full House and Eric's Season 1 best friend on Boy Meets World.]
Jodie Rivera (Emily Binx)
Then: Jodie Rivera (apparently then credited as Amanda Shepherd) played Emily Binx, the young Puritan girl who literally had the life sucked out of her by the Sanderson Sisters in a scene that will forever haunt your dreams.
Now: Rivera went on to completely transform herself into a bonafide YouTube star under the name VenetianPrincess, boasting over 900,000 subscribers and garnering some serious online fame. She produced her one-woman show, shooting the videos, performing her own songs and doing her own elaborate makeup. We guess the Sanderson sisters left her with a little life after all!
Tobias Jelinek (Jay)
Then: Tobias Jelinek made his film debut as blonde-haired bully Jay in Hocus Pocus, incessantly annoying Max and referring to him as "Hollywood" more times than was probably necessary.
Now: Jelinek continued his acting career with a small role in 1997's Batman & Robin before taking a 10-year hiatus and returning in 2007, when he built up credits in Southland, Pretend Time, The Young and the Restless and Shameless. (Jelinek played the role of Meth Head in two different shows.) In 2016, he had a recurring part as Lead Agent on Netflix's viral hit Stranger Things and guested on the shows Atlanta and Major Crimes.  You can check out his Instagram here, where fans frequently reference 'Hocus Pocus' in the comments.
Larry Bagby (Ernie 'Ice')
Then: Larry Bagby portrayed Jay's sidekick Ernie, who stole Halloween candy from kids and shaved his nickname, 'Ice,' into his head because it was the '90s and why not. Later on in the decade, Bagby went on to have a recurring role as jock Larry on Buffy the Vampire Slayer.
Now: Though Bagby has continued to act (including a supporting role in Walk the Line and a recurring role on The Young and the Restless, his true passion is country music, and he has a pretty decent voice. You can check out the music video for his song,'Where Do I Belong?' here. Betchya never imagined that Ice would grow up to be a country singer!
Doug Jones (Billy Butcherson)
Then: Doug Jones played Winnie's zombie ex Billy Butcherson, whom she poisoned when she caught him fooling around with her sister Sarah. (Remember when Disney movies were allowed to be just a little raunchy?)
Now: Jones has made a name for himself as a go-to character actor, particularly in horror movies. He played Abe Sapien in the Hellboy movies and both Fauno and the Pale Man from Pan's Labyrinth (you know, the latter being the one with eyeballs embedded into his palms). He also starred as a Gentleman in "Hush," the scariest Buffy the Vampire Slayer episode ever. More recent entries in his extensive resume were recurring roles on Falling Skies and FX's The Strain. You can follow him on Twitter here.