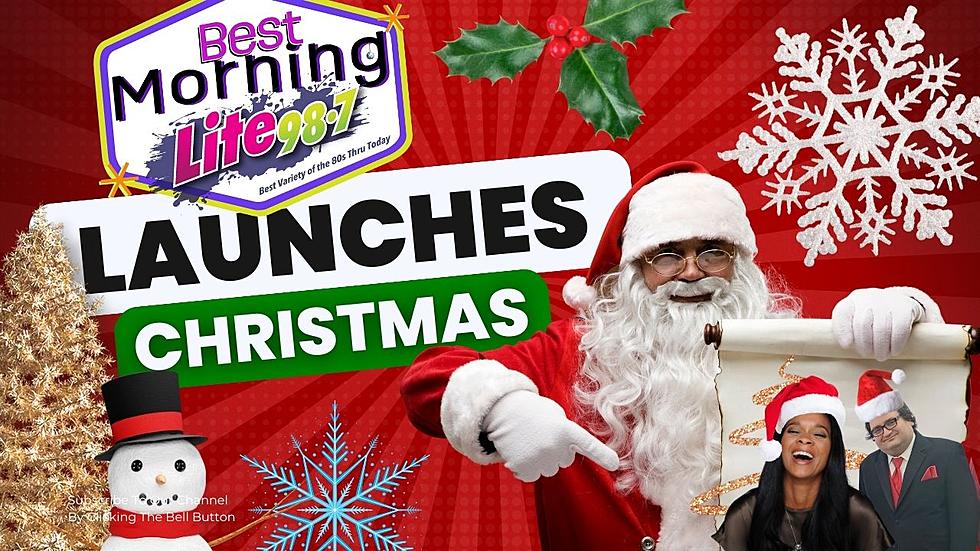 It's Back: Lite 98.7 is Central New York's Christmas Station 🎄🎶
Credit: Envy McKee/Canva
Tis the Season...
Christmas music. Is Back.
I know, I know. It's Early. But is it though?
In spite of the power outage in Marcy at 6:40am that caused the Lite 98.7 studios to go down, there is still plenty of Holiday magic to go around.
If you've been holding your breath about when it's time to hear your fave Mariah Carey, Michael Bublé, Destiny's Child and Chipmunks Christmas Tunes to be played around the clock-- you're in luck.  Lite 98.7's vibrant Morning Show, Best Morning, has officially launched 24-hour Christmas music through December 26.
New Christmas Music Launch Video
To help celebrate the occasion of continuous Christmas music throughout your workday, the Best Morning Team--hosts: Envy McKee, Dave Wheeler and interns: Bella Morell and Mona Chahfe put together an epic Christmas music launch video.
I know, I know. Cute. Fun. Funny. Special thanks to Mariah Carey for being a whole mood, since 2023 has been another challenging year for many of us--for varying reasons. For some, the holiday season is a time of magic and wonder. For others, notably, the holiday season is stressful. And yes, it's true, we still have a week before Thanksgiving.
Wherever you fall in the Holiday spectrum, somebody has to be the areas Christmas music station. Christmas music adds a little razzle dazzle to the oft mundane workday and also acts as cute theme music to the daily grind.  It's an incredible honor for Lite 98.7 and Best Morning to be the soundtrack to this holiday season that is sure to reunite families that were separated since last year. If the Christmas music nostalgia hasn't hit yet. Who knows? Maybe it will. There's still plenty of time. :)
Are you excited that we made the flip to Christmas music? If you are or even if you aren't, let The Best Morning Team know inside our station app.
76 Beautiful Christmas Trees Across The Utica And Rome Area Of New York
Did you know Christmas trees are grown in all 50 states including Hawaii and Alaska? Now you do. Take a look at these amazing photos of local Christmas trees.
Gallery Credit: Dave Wheeler
The Better Business Bureau's "12 Scams of Christmas"
Gallery Credit: Kaylin
10 Years of Christmas Trees in Rockefeller Center
Check out more than a decade of Christmas trees in Rockefeller Center.
Gallery Credit: Credit - Polly McAdams