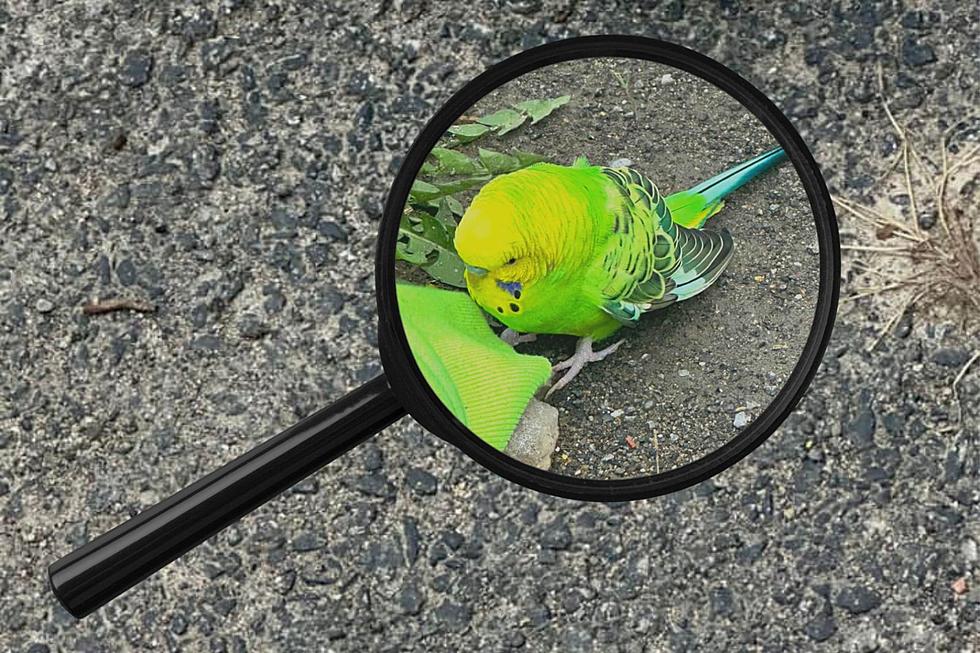 Unique Green Bird Found Alone in Central New York; Is it Yours?
Karleigh Wendell, Canva
It's not every day you see a bird like this. Can you help us find the owner?
Imagine having this colorful looking bird show up in your driveway. What looks like a pigeon that got slimed, is actually someone's pet and they're in desperate need of finding it's owner.
Karleigh Wendell recently put out a post on Facebook, trying to find the owner of a cute lost bird in her neighborhood. She says the bird just appeared in her driveway one day, on East Street in Cassville, and they have no idea were it came from.
According to Karleigh, the bird is very friendly and not afraid of people. She and her fiancé assume the bird is someone's lost pet because it responds to calls and will let them hold/pet it.
And also... when's the last time you've seen a neon green bird flying around?
What Even is It?
Based off my bird expertise, and the power of Google, the bird appears to be a Budgerigar. It's a small, long-tailed parrot or parakeet and considered one of the most common parrots kept as pets in the United States.
So good news, it's not some nuclear or mutated pigeon. But the bad news, we still don't know where the bird came from.
In her latest update, Karleigh says they took the bird to a local wildlife center to be taken care of. The bird was very malnourished and had a low body temp when they brought it in. The parrot is now on a heating blanket and slowly getting healthier every day.
Help Us Find the Owner
Do you know whose pet this is? If not, help us find the owner by sharing this post. The quicker we can get this little dude back to their home the better! You can bet their owner is worried sick about it, especially with how cool the bird looks.
If you do know the owner, you can shoot us a message on our app, Facebook page, OR contact Karleigh for more information.
10 Exotic Animals You Can Legally Have as Pets In New York
Looking for an exotic pet in New York State? Here are 8 animals you can legally have.
44 of Biggest Earthquakes to Shake New York State
New York is no stranger to earthquakes. There have been 44 to hit the state with a magnitude of 3.0 or higher.
The Twenty Richest Billionaires Currently Living in New York
A handful of the richest people in the world currently call New York home, and these are the twenty wealthiest Empire State residents in 2023.
13 Delicious Places to Eat Along the Erie Canal!
Thousands of tourists travel the Erie Canal route, by car and boat, in Upstate New York annually. For a convenient reference guide we have picked out a baker's dozen great places to dine along the canal for single folks traveling through or for families making this region their summer vacation. There are many fine restaurants to choose from, so we split it up in two. This gallery looks at places from Canastota westward. We will look "the other half" in a future gallery.
13 Books About Utica You Can Buy on Amazon Right Now
There's nothing like getting lost in the pages of a good book! Here are 13 books centered around the city of Utica, New York.