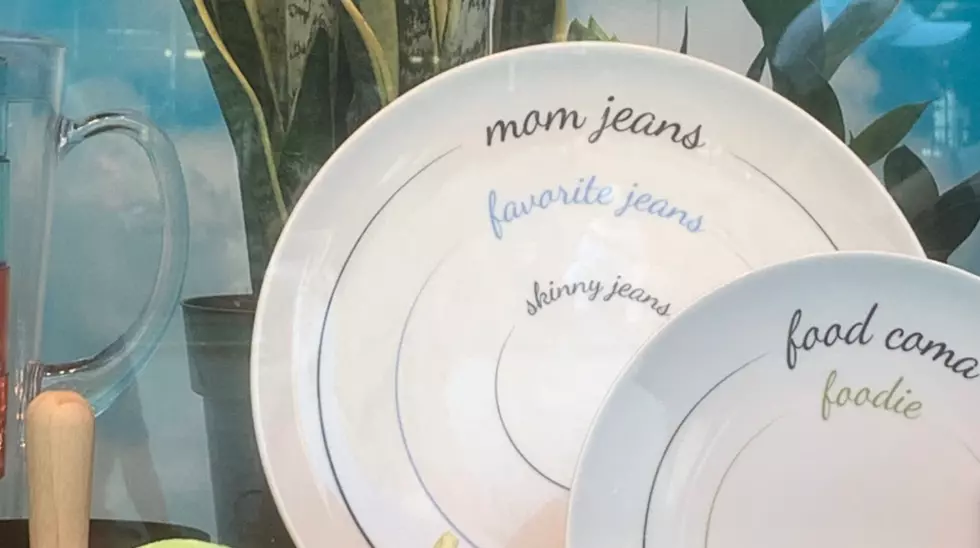 'Mom Jeans' Dishes Sold at Macy's Spark Online Fat-Shaming Controversy
Credit: Alie Ward @alieward via Twitter
A set of plates sold by Macy's sparked an online debate about what's acceptable humor, and what's considered fat-shaming.
Here's how the whole thing went down: Twitter user Alie Ward, who hosts a science podcast, and is also featured on CW's Did I Mention Invention?, CBS's Innovation Nation, Brainchild on Netflix, and the Cooking Channel saw a set of dishes on display at Macy's.
Each plate features concentric circles, presumably meant to indicate serving sizes. Each circle is labeled. One plate has a smaller circle labelled 'spaghetti' and the larger circle labeled 'get to the spa.' Another says 'al dente' on the smaller, and 'al don'te' on the larger. The plate that caught Alie's eye has three circles, each larger than the one before. The smallest: 'skinny jeans,' then the next largest 'favorite jeans', and the largest is labeled 'mom jeans.'
Spoiler alert: after some collective internet outrage, Macy's decided to remove the plates from all their stores, saying they "missed the mark."
The comments on social media were more divided. Some commenters argued that the plates were clearly about fat-shaming and likely to encourage eating disorders.
Others felt the plates were simply amusing, and those that didn't like them just shouldn't buy them.
The entire collection of plates contained various messages:
What do you think? Are these plates funny or insulting? Have we simply lost our sense of humor, or our sense of empathy? Do you agree with Macy's decision to remove these plates from their offerings?