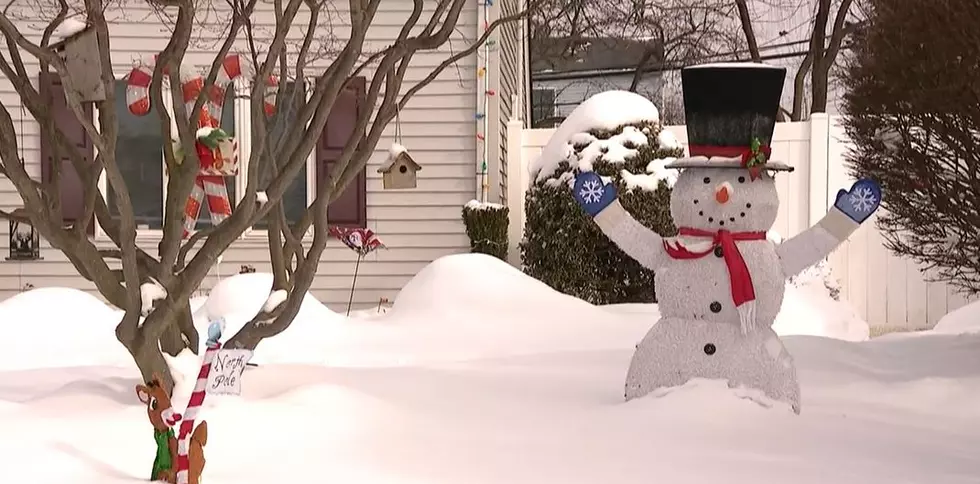 New York Residents Put Christmas Lights Up To Support A Neighbor
Photo Credit: News12 Long Island
Someone recently sent out an anonymous letter to a neighborhood asking people to take down their Christmas lights.
News 12 Long Island reports that this anonymous person was offended by holiday lights that are still up to the point that they sent multiple typed letters, and mailing them stating that the lights need to come down.
One recipient of that letter says their lights are a connection to family members who recently lost their lives after contracting COVID-19.
Sara Pascucci said on social media that her entire family has been dealing with the effects of COVID-19 since Christmas Eve resulting in them losing two family members -- her father Anthony and Aunt Connie -- in January.
"Considering the circumstances, we didn't find it funny," says Pascucci. "It was actually very hurtful, we were just really taken aback."
Pascucci's father loved decorating the house for Christmas, taking pride in doing it for his family. The family has been left to battle the emotions of losing family members, after a very different holiday season.
"There's funeral arrangements, bills to take care of, but it's also very hard to take something down that your father enjoyed," she says.
She says the author of that letter is being insensitive, and that they should be kinder because you never know what someone is going through.
Response from fellow neighbors to the Pascucci family has been so positive that some said they're going to put their Christmas lights back up to show their support.
"I want to thank everyone who has responded, you know who showed their love and condolences to me, it made me feel a lot better," says Pascucci. "So this letter is not even something that hurts anymore because of everyone's love and support."
Enter your number to get our free mobile app
Goosebumps and other bodily reactions, explained