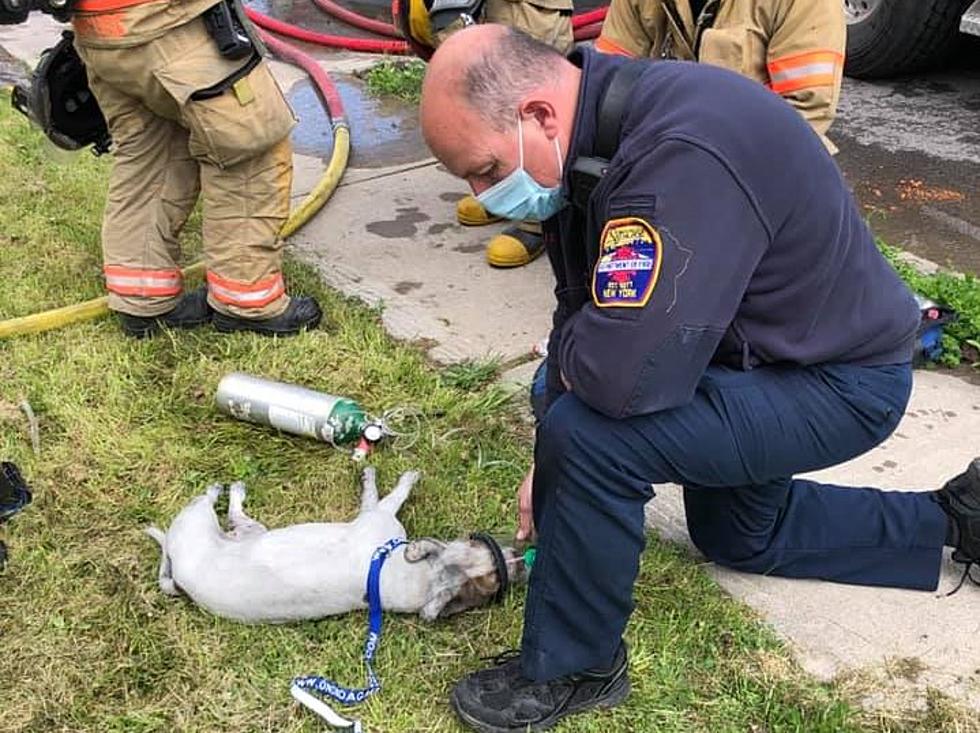 Hero Firefighter Breathes Life Into Unconscious Puppy Rescued From Syracuse House Fire
Credit - Syracuse Fire Department
Firefighters breathed life back into a unconscious puppy rescued from a house fire.
The Syracuse Fire Department was called to a fire on Sand Street. Crews arrived within minutes of receiving the call and saw thick black smoke coming from the home.
Firefighter forced their way into the house to search for anyone trapped inside. What they found was a puppy that was unconscious and not breathing. The dog was carried outside and given treatment with a special pet reresection device. "After several minutes the dog began breathing on his own and regained consciousness," the Syracuse Fire Department shared in a press release on their Facebook page.
The family was not home at the time of the fire. When they finally arrived, they took the dog to the vet to be look at to make sure he'd be ok.
Firefighters had the blaze under control in less than 20 minutes.
The cause of the fire is under investigation.
Firefighters Rescue Child Trapped in Vending Machine
The Syracuse Fire Department were called Wednesday, April 21, around 5:30 PM after a kid crawled inside a machine that dispenses prizes and got stuck. Firefighters had to disassemble the machine to de-claw the child. "We are happy to report that there were no injuries," the fire department shared on Facebook.
It happened inside Billy Beez according to the child's grandmother Jackie Perez. "My oldest granddaughter assisted my youngest granddaughter into the vending machine," she shared on Facebook.
The good news is firefighters were able to quickly rescue the child and no one was hurt.
LOOK: Stunning animal photos from around the world
From grazing Tibetan antelope to migrating monarch butterflies, these 50 photos of wildlife around the world capture the staggering grace of the animal kingdom. The forthcoming gallery runs sequentially from air to land to water, and focuses on birds, land mammals, aquatic life, and insects as they work in pairs or groups, or sometimes all on their own.
Three Week Old Eaglets Born Near Susquehanna River
Three week old eaglets born in the wild near Susquehanna River