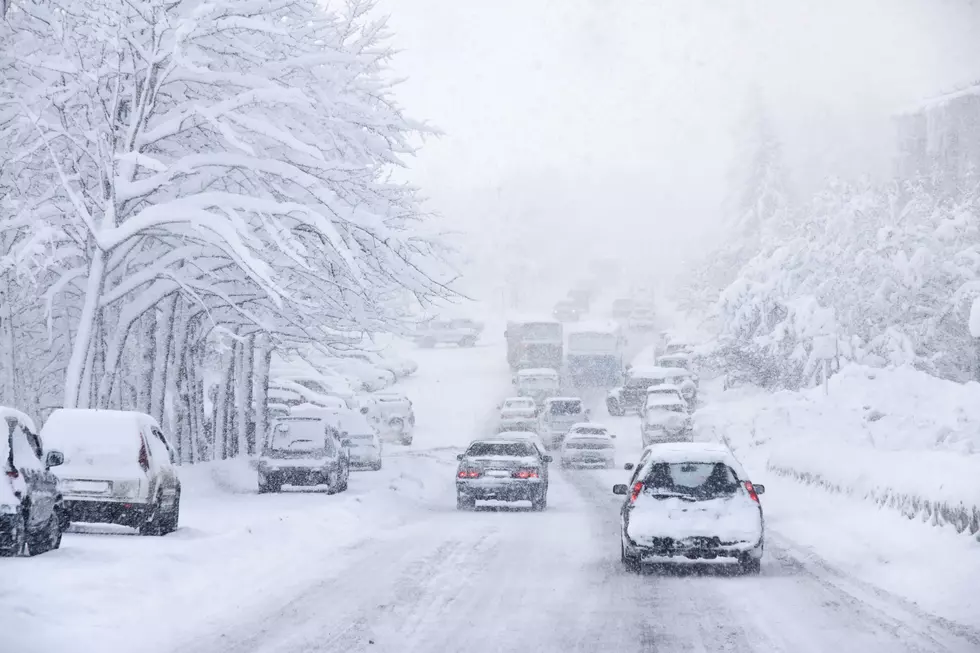 Winter Weather Advisory for Central New York, Snow Could Lead to Messy Commute Thursday
Credit: Irina Igumnova/ThinkStock
The National Weather Service has issued a Winter Weather Advisory for parts of Central New York, with several areas under a winter storm warning.
Snow is expected to begin this evening and last until Thursday evening, and could make for a messy commute on Thursday morning and Thursday evening. Total snowfall accumulations could be between 4 - 7 inches.
Madison and Onondaga counties are also under a Winter Storm Warning and can expect from 4 - 12 inches.
Southern Oneida-Cortland-Chenango-
Including the cities of Rome, Utica, Cortland, and Norwich
408 AM EST Wed Jan 9 2019
...WINTER WEATHER ADVISORY IN EFFECT UNTIL 7 PM EST THURSDAY...
* WHAT...Lake effect snow expected. Total snow accumulations of 3
to 7 inches expected. Winds gusting as high as 40 mph.
* WHERE...Southern Oneida, Cortland and Chenango counties.
* WHEN...Until 7 PM EST Thursday.
---
WINTER WEATHER ADVISORY IN EFFECT UNTIL 4 PM EST THIS
AFTERNOON...
...WINTER STORM WARNING IN EFFECT FROM 4 PM THIS AFTERNOON TO
7 PM EST THURSDAY...
* WHAT...Snow and blowing snow expected. Heavy lake effect snow
expected. Total snow accumulations 1 to 3 inches through 4 PM
today, with winds gusting as high as 40 mph causing blowing snow.
Additional lake effect snow of 4 to 9 inches expected 4 PM this
afternoon through 7 PM Thursday.
* WHERE...Onondaga and Madison counties.
* WHEN...For the Winter Weather Advisory, until 4 PM EST this
afternoon. For the Winter Storm Warning, from 4 PM this
afternoon to 7 PM EST Thursday.
* ADDITIONAL DETAILS...Travel could be very difficult. Areas of
blowing snow could significantly reduce visibility. The
hazardous conditions could impact morning and evening commutes.
PRECAUTIONARY/PREPAREDNESS ACTIONS...
A Winter Storm Warning for heavy lake effect snow means
significant amounts of lake effect snow are forecast that will
make travel very hazardous or impossible. If you must travel,
keep an extra flashlight, food, and water in your vehicle in case
of an emergency.
A Winter Weather Advisory for snow means periods of snow will
cause primarily travel difficulties. Expect snow covered roads
and limited visibilities, and use caution while driving.
---
Keep Up-To-Date
Take us everywhere you go with our new App. Listen live with all of your favorite shows with fewer commercials. The new app lets you call, message or tweet at us anytime or send us photos and videos. The app also gives you the ability to receive notifications about breaking news, weather alerts, traffic advisories and school closings happening in and around Central New York.
Winter Weather Preparation:
Keep your cell phone charged and make sure you know where your backup power supply is.
Make sure all your flashlights have fresh batteries.
Fill your gas tank. You can use your car to keep warm and recharge devices.
Have some food available that you don't need to cook.
Download theLite 98.7 App. You'll receive local alerts, weather reports and more with push notifications.