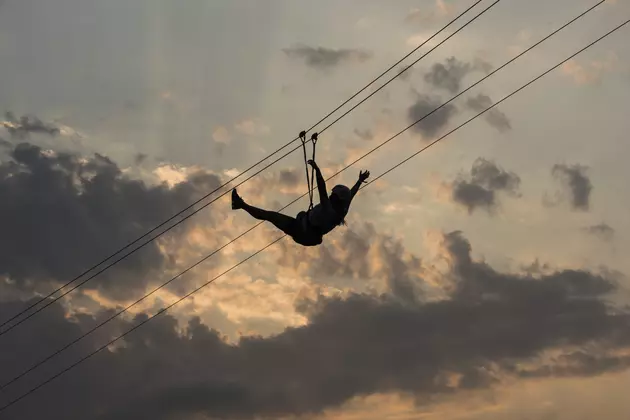 Would You Ride a Zipline Through Downtown Utica? [VIDEO]
(Photo by Raphael Dias/Getty Images)
Ziplines are being set up all over the place, including in city areas. If one was built through Utica, would you ride it?
Adirondack Extreme has an 'Adventure Course' that takes you up in the trees and has ziplines for you to get a different view of the area, all while enjoying the ride of... well, ziplining. And they're not the only ones - Places all over are setting these guys up.
It became a big deal to be able to zipline through the trees or over scenic mountains, but now ziplines are being put into more 'busy' areas, like through towns and in Las Vegas. Actually, Vegas has quite a few different ziplines you can go down.
Watching one of the ziplines in Vegas brought on this question: If there was one in Utica, would you be up for the ride? Let's say the zipline started in North Utica by River Road, and it took you up like 50 stories, and you slowly road over the city to about the roundabout - Would you want to experience that? You could go over the river, past the Landmarc Building, and see Utica from a whole new view.
This is just one of the ziplines in Las Vegas that started this whole conversation. Watch it, and imagine this in downtown Utica. Sure, there would be less lights, but it would still be a pretty unique experience.
What do you say, are you in?