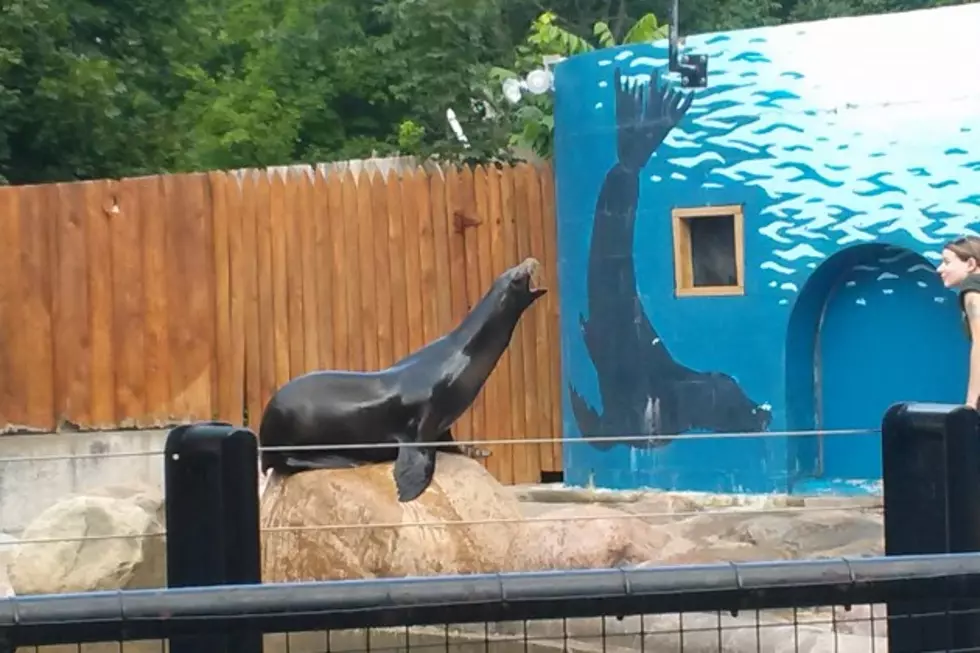 Baby Sea Lion Escapes at the Utica Zoo
TSM
It looks like 11-month-old Niko wanted to go on a little adventure. The California Sea Lion escaped his enclosure at the Utica Zoo.
No need to panic, though. Niko is back in his enclosure, no one was hurt, and the Utica Zoo zookeepers and workers were able to handle the situation very professionally and in a timely manner.
It happened Sunday (May 21st) around 4:45pm. According to a post on the Utica Zoo's Facebook Page, they joked that visitors to the zoo got a surprise "animal encounter." It looks like little Niko got out of his pool and because he's so small, he could fit between the public barriers and get out. Luckily, the zookeepers noticed what he was doing and came over to make sure he didn't get any further. Other zookeepers came by as well, but according to the Utica Zoo's Facebook Post, Niko was done with his adventure and went back into his enclosure all on his own.
Can you imagine walking around the zoo, passing by the California Sea Lion exhibit, and seeing one of them got out?? What a way to have an even more exciting time at the zoo. We're sure the visitors who saw it yesterday got a little kick out of it. And apparently so did the general public, considering this post on Facebook has over 500 reactions and over 40 shares (as of Monday morning).
Looks like little Niko just wanted to do some exploring. Who can blame him though, there's so much to see at the Utica Zoo.
And just in case you're wondering, the zoo will be making changes to the sea lion exhibit so Niko (or the other sea lions) don't try to go out on an adventure again.
If you ever needed an excuse to head to the Utica Zoo, we think this is the perfect one: You never know what's going to happen, or what you're going to see. So why not stop by today? (Or sometime this week). They're open every day from 10am - 4:45pm. Cost is $8 for ages 13 and older, Children (3 - 12) $4.75, and children under 2 get in for free. Plus they offer special discounts for college students, seniors, and military.
---
BONUS VIDEO: