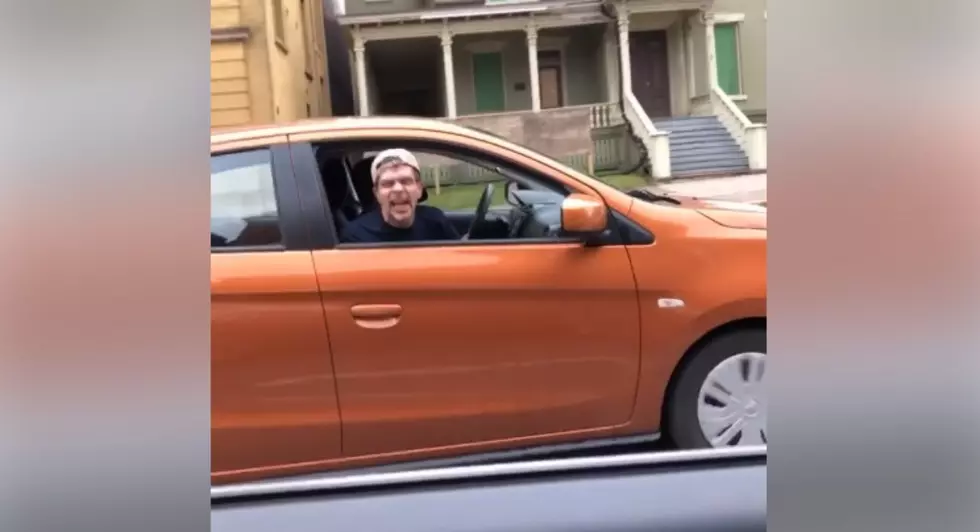 Racist Tirade in Utica Caught on Video, Victim Responds with Grace
Credit: Jakeila Phillips, Facebook
A video of a racist encounter on the streets of Utica has gone viral on social media, both for the vitriol spewed by the attacker, and the grace displayed by the recipient.
Jakeila Phillips of Utica, posted the video to her Facebook page on Saturday, "when I tell people I experience racist/prejudice encounters all the time they never believe me cause we live in Utica ! I finally got to catch one on camera."
The 'gentleman' in the video is captured on film saying "I hate n______s!" "Black lives don't matter," and, despite acknowledging he's on video, says "I hang n______s on weekends."
Jakeila films the encounter, and instead of screaming back, merely laughs at the man, who identifies himself as Barry Wardell, and says he is a cook. He allegedly lives in New Hartford, and another Facebook poster says the New Hartford Police were present on his street.
Wardell was previously employed by a food service provider for Hamilton College. The college President David Wippman, has issued a statement:
Dear Hamilton Community,

 

A Facebook video came to our attention this morning, showing someone who previously worked at the College as a contract employee of our food services provider making despicable racist slurs. I am appalled by what is on the video. He will not work here again and has been banned from our campus effective immediately. The behavior shown on the video is an extreme violation of our community standards and will not be tolerated. We will review our own and our contractors' employee screening and training policies to be sure appropriate requirements are in place.

 

I will also reach out to the Utica resident who was the target of this individual's slurs. I want her to know that racism and bigotry of any kind will not be tolerated at Hamilton College.

David
The food service provider, Bon Appétit Management Company, issued their own statement:
Bon Appétit Management Company was made aware this morning of a video capturing an employee making racist statements. Our HR team is already investigating the incident, and we will take swift and appropriate action. Although Bon Appétit Management Company's usual policy is not to discuss individual personnel matters, because of the extreme and public nature of this act, we can state that the employee in question was hired in February and worked for us for one month before being placed on leave due to COVID-19. Bon Appétit has a zero tolerance policy regarding racism. We condemn these vile comments whole-heartedly.
That same day, Mr. Wardell was allegedly in a New Hartford business, and told the owner he was headed to a "Black Lives Don't Matter" rally. No such rally ever happened in New Hartford. The business owner tell us he contacted the New Hartford Police Department, who spoke to Wardell. The New Hartford Police Department says no criminal charges were filed and they are "keeping an eye on the situation."
The Utica Police have issued a stement:
The same man was allegedly involved in a similar incident in New Hartford.
So much more attention is being focused on racism right now, in the wake of the killing of George Floyd, and Ahmaud Arbery, and Breonna Taylor (to name a few). As it should be, in my opinion - and this video is a stark reminder as to why.
That anyone in our city should have to experience this kind of treatment while simply driving down Genesee Street is horrifying. No one should be subject to this. For those that believe racism is no longer an issue in Utica, I hope this video is eye-opening, and you recognize it as something not unique, but an example of the behavior people of color experience regularly - in way that are this overt, and in ways that are more subtle.
The real hero in this video is Jakeila. She met hate with laughter. She handled a situation with more grace than I would have been able to muster in those circumstances. She deserves a tremendous amount of credit and respect.
I hope Mr. Wardell has his eyes opened, and reflects on the hate he clearly carries in his heart.
(This story is developing, we will update as more information becomes available.)
---
---
PHOTOS: Protests around the world in the wake of George Floyd's death