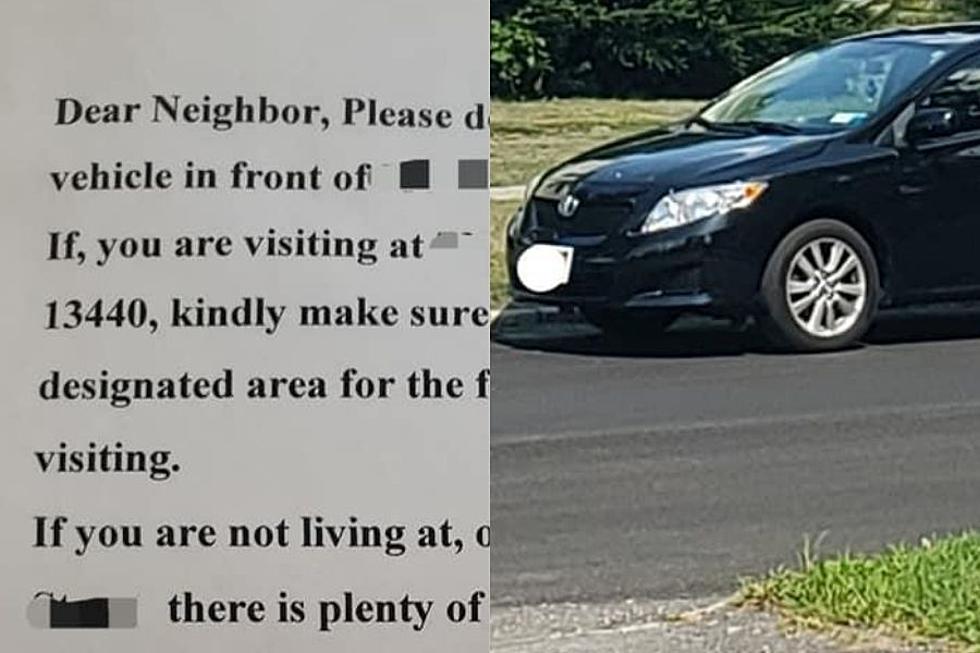 Rome Woman Puzzled by Weird Note Left on Her Parked Car
Credit: Mary Elizabeth
A Rome woman visiting her parents came out to find a note on her car that says she can't park where she was. Does a homeowner have a right to decide who can park in front of their house?
Mary Elizabeth was visiting her parents in a home on West Court Street in Rome. She parked in the street, in an available spot. When she returned to her vehicle, she found a note on the windshield, that says she should "not continue to park" her vehicle in front of their house, and instead she should park closer to the home she's visiting. The letter is signed "The Management."
Mary says "there isn't a sign saying that I can't park there and I'm not blocking their drive way nor the side walk. I respect that they don't want me parking there so I moved my car, but can they really do anything about me parking there?"
Does a homeowner have the right to determine who parks in front of their home? We checked with the Oneida County District Attorney's office who confirmed that on a city street, you're free to park where you want - as long as you're complying with any city signage or directives.
The City of Rome's codes say "No driver shall fail, neglect or refuse to comply with any regulation limiting or restricting the parking or standing of vehicles displayed on official traffic signs installed or placed in or upon any street, lane, fire zone, public land or public right-of-way." (Sec. 70-702)
So, while 'Management' may want to reserve the spots in front of their house for the residents, they can't go around demanding drivers park elsewhere.
Have you gotten a note like this parking in Rome? Let us know, with our station app.
Enter your number to get our free mobile app
---
---
UP NEXT: See how much gasoline cost the year you started driving