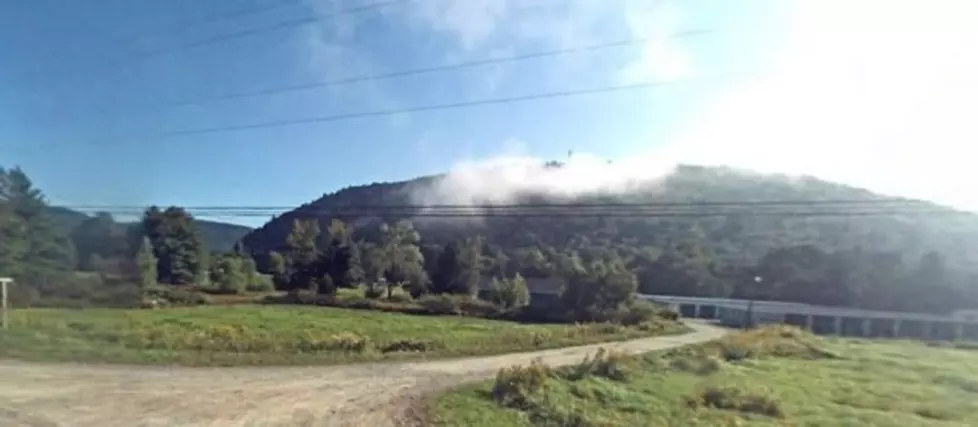 The Legend of the Point Mountain Mausoleum in Hancock
Google Maps Street View
Towering above the Southern Tier village of Hancock is the abandoned Point Mountain Mausoleum.
The building, which was a tall tower was constructed, according to a Wikipedia article, to house the remains of Doctor Lester Woolsey, a long serving coroner in Delaware County. Construction was done in the 1940s and the good doctor passed away in 1962. However he was not destined to enjoy eternity in the crypt he built. The building was abandoned and the remains removed after only a few years. The building was subject to vandalism.
A 2012 YouTube video give a look at the mausoleum today. The structure is off limits to the public accessible only by private road that serves an adjacent cellphone tower.
The photo above shows Point Mountain, so named as it's on a spit of land that lines between the mainline Delaware River and an eastern branch, as viewed from Pennsylvania Route 191. The mausoleum and tower are shrouded in fog.
BONUS VIDEO - The Bizarre Burial of Baron von Steuben
Revolutionary War hero General Baron Von Steuben chose to make New York State his home after the conflict. There are strage tales that surround his burial and exhumation at his estate near Remsen and the Haunts and Legends explorers find some odd Masonic symbolism at his Memorial Park.