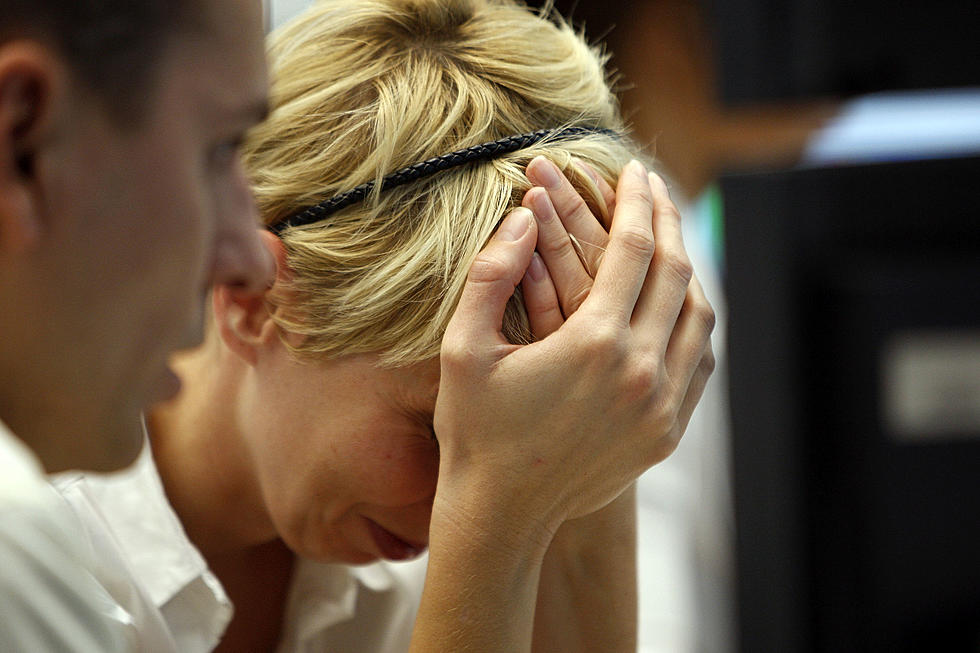 10 Obscure Emotions That Actually Exist – And Their Names [VIDEOS]
(Photo by Mario Vedder/Getty Images)
Okay, so we all know about anger and sadness, jealousy and frustration, but what about that weird feeling when you start paying attention to your heartbeat? Or the calmness you have being inside while it's storming outside? Well, there are actual names for those feelings.
While browsing the internet, wasting time like I usually do, I stumbled upon the most interesting article I've read in a long time. It was actually a post going around on Facebook, talking about these weird emotions we sometimes get - that most people don't know they have names for. That got me digging for more information, and I found 'The Dictionary of Obscure Sorrows.' This website has a whole list of weird emotions, explains them, and gives you the actual name of them. I decided to share the ten most interesting ones.
1 - Sonder
Sonder is that feeling when you realize that everyone you see, everyone who passes you by has their own complex life. Their life has the same kind of feelings as yours does - with heartache and happiness, and routines, family, and everything else that happens in life. Every person out there has their own filled life - just like you.
2 - Zenosyne
Zenosyne is when you feel that time keeps going by faster and faster. When you were younger 10 minutes was an eternity! Now, a whole year goes by and it feels like it only lasted seconds. This video has a really great way of explaining it.
3 - Chrysalism
This is one of the ones I mentioned earlier. Chrysalism is that relaxed, calm feeling you have when you're inside and it's storming outside. I never knew there was an actual word for it until today!
4 - Monachopsis
Now this is one we can all relate to at one point or another, in our lives. Monachopsis is that weird feeling that you're out of place. It's a small feeling, but somehow persistent.
5 - Lachesism
Lachesism is a pretty unique one, and every time I think about it - it reminds me of the movie 'Fight Club.' According to The Dictionary of Obscure Sorrows, Lachesism is:
the desire to be struck by disaster—to survive a plane crash, to lose everything in a fire, to plunge over a waterfall—which would put a kink in the smooth arc of your life, and forge it into something hardened and flexible and sharp, not just a stiff prefabricated beam that barely covers the gap between one end of your life and the other.
6 - Rubatosis
This is another one I mentioned earlier. Rubatosis is that hard-to-explain, unsettling feeling you get when you actually start noticing your own heart, and its own beats. It freaks me out Every. Single. Time.
7 - Klexos
Klexos is the art of dwelling on the past - and it really is art if you think about. Recalling a memory now, then recalling that same memory five years from now can have a different effect on you (even though the memory is the same). This video explains it really well (and really creatively, I might add).
8 - Jouska
This is definitely something I've done a million times, and I know you have too! Jouska is when you play a conversation over and over in your head, but it never happened. It's a hypothetical conversation - like you asking your boss for a raise, and you keep playing it out, or a fight with a friend (and you're thinking, 'I should have said that').
9 - Liberosis
Liberosis is that feeling, that desire to care less about things.
10 - Kuebiko
This is an exhausted feeling - both physically and mentally. It happens after acts of violence takes place - like your mind and body just can't handle all the negativity. You can feel this way even if you're not closely linked to the violence (like seeing things on the news or online).
Seriously, this was one of the most interesting things I've read in a long time. There are tons more of emotions that most people don't know there are actual words for them. 'The Dictionary of Obscure Sorrows' has a whole list of them (and it keeps growing). Plus videos, and better explanations!
LOOK: Here Are 30 Foods That Are Poisonous to Dogs
To prepare yourself for a potential incident, always keep your vet's phone number handy, along with an after-hours clinic you can call in an emergency. The ASPCA Animal Poison Control Center also has a hotline you can call at (888) 426-4435 for advice.
Even with all of these resources, however, the best cure for food poisoning is preventing it in the first place. To give you an idea of what human foods can be dangerous, Stacker has put together a slideshow of 30 common foods to avoid. Take a look to see if there are any that surprise you.
LOOK: The Most Famous Actor Born Every Year