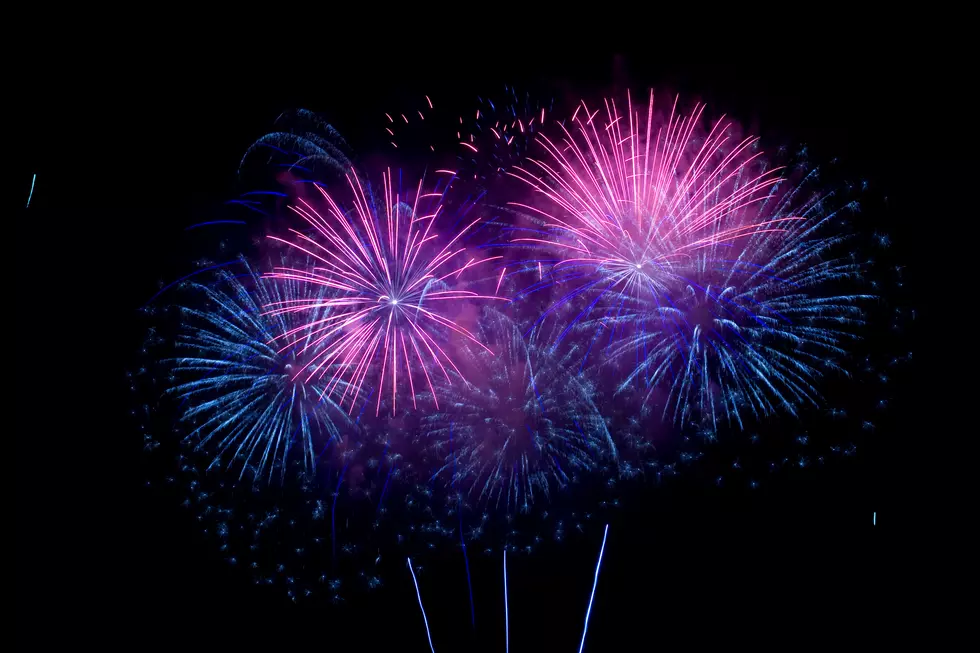 Fireworks, Shopping, Yoga, and More: 10 Fun Events to Check Out This Weekend
Oleksii Sagitov/ThinkStock
There's always a lot going on every weekend in Central New York. We found the top 10 things we think you should make time to check out this weekend.
And these activities and events range from a great day out with your significant other to a family-friendly day in the area. Some are free, but a few have a small fee. If you're stuck for an idea this weekend, why not enjoy one of these experiences in the Mohawk Valley?
1

Yoga for Yoda

Sat. May 27: 9a - 10a at the Utica Zoo

PRICE: $20 per person, includes ticket into the zoo to see all the animals after the class.

Start your Saturday morning off with some nice, refreshing yoga at the Utica Zoo. All levels of yoga and all ages are welcome. And the best part is the money from this event goes to helping Yoda and the other primates at the Utica Zoo.

2

Red, White, and Blue Spring Into Summer Celebration

All weekend starting Friday morning in Old Forge

PRICE: FREE (although there will be items/food available to purchase)

Old Forge is having a special celebration all weekend long for the kickoff of summer. There will be exhibits, garage sales throughout the town on Saturday and Sunday, and special deals at restaurants and bars. And don't forget about the amazing fireworks display Sunday at 9pm at the Old Forge Lakefront/Pond. There will also be a parade on Monday morning for Memorial Day.

Oleksii Sagitov/ThinkStock

Oleksii Sagitov/ThinkStock

3

Oneida County Public Market

Sat. May 27: 9a - 1p at Union Station in Utica

PRICE: FREE (there are food/items available to purchase)

Get fresh veggies and fruits, handmade soaps and crafts, and even gourmet bacon. This market has been ranked as one of the "101 Best Farmer's Markets in America" for a reason... You're sure to find everything you're looking for and some hidden treasures as well.

monkeybusinessimages/ThinkStock

monkeybusinessimages/ThinkStock

4

Woodland Farm Brewery Barrel-Aged Beer Bottle Release

Sat. May 27: 11a - 10p at Woodland Farm Brewery in Marcy

PRICE: FREE to get in, but you'll obviously want some money to get drinks and food.

Woodland Farm Brewery is releasing their second "barrel-aged" beer, and they're doing it with a whole party. Other drinks will be available, there will be food, and the band "Pocket Change" will perform starting at 12:30p.

5

Clinton Memorial Day Ceremony and Parade

Mon. May 29: 9a starting at the College Street Bridge

The day will start with a brief Memorial Day Ceremony at the College Street Bridge, with the parade following after. The parade will continue to the Clinton Village Green Gazebo, where a memorial service will take place.

6

'You Are My Sunshine' Toddler Art Class

Sat. May 27: 9a AND 10a at BB Designs in New Hartford

PRICE: $21 per child and adult pair

BB Designs has a fun activity for kids up to 4 years, to spend some quality time with their mom or dad. The session includes introductions, a story, and painting which may or may not include the hands and feet (so wear clothes that you don't mind getting messy in).

7

Board Game BBQ

Sun. May 28: 12p - 8p at Wanna Play Cafe in Utica

Ticket price includes a BBQ buffet with macaroni and cheese, burgers, pulled pork, an ice cream bar, and other goodies. There will be tons of board games to choose from like "Game of Thrones: The Board Game" and "Hero Quest" (and others from Wanna Play Cafe's huge game library).

8

Free Family Saturday

Sat. May 27: 10am at Hanford Mills Museum

Get the family together for this unique learning experience in East Meredith. There's guided tours of the water-powered sawmill and woodworking shop. And during "Free Family Saturday" there will be special kid-friendly activities and live music from 11a - 2p.

Monkey Business Images Ltd/ThinkStock

Monkey Business Images Ltd/ThinkStock

9

Sight-Seeing Cruise on the Erie Canal

Sun. May 28: 3pm at 'Gems Along the Mohawk' in Herkimer

PRICE: $20 for adults, $12 for children

Why not spend your Memorial Day Weekend taking in the sights along the Erie Canal, including the Historic Fort Herkimer Church? The 90 minute cruise will teach you about the canal's history and you'll even get to go through Lock 18.

Photo Credit: Google Maps Street View

Photo Credit: Google Maps Street View

10

Community Arts Education Student Show

Sat. May 27 at Munson Williams Proctor Arts Institute

This is the last weekend to see the Community Arts Education Student Show. The artwork celebrating the excellent work of students is at the School of Art Gallery (behind the administration offices).